The 2023 Subaru Love Promise Customer and Community Commitment Award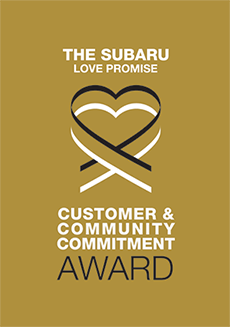 We've been nationally recognized for our dedication to our customers, our community, and the Subaru Love Promise.
We're honored to receive the 2023 Subaru Love Promise Customer and Community Commitment Award. This award nationally recognizes elite Subaru retailers who provide an exceptional customer experience at every interaction with Subaru. These retailers have also demonstrated an outstanding commitment to supporting passions and causes in their local communities in important areas such as the environment, community, health, education, and pets.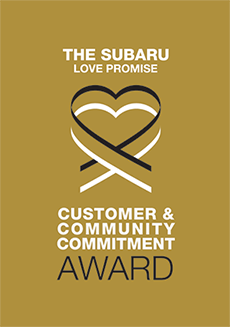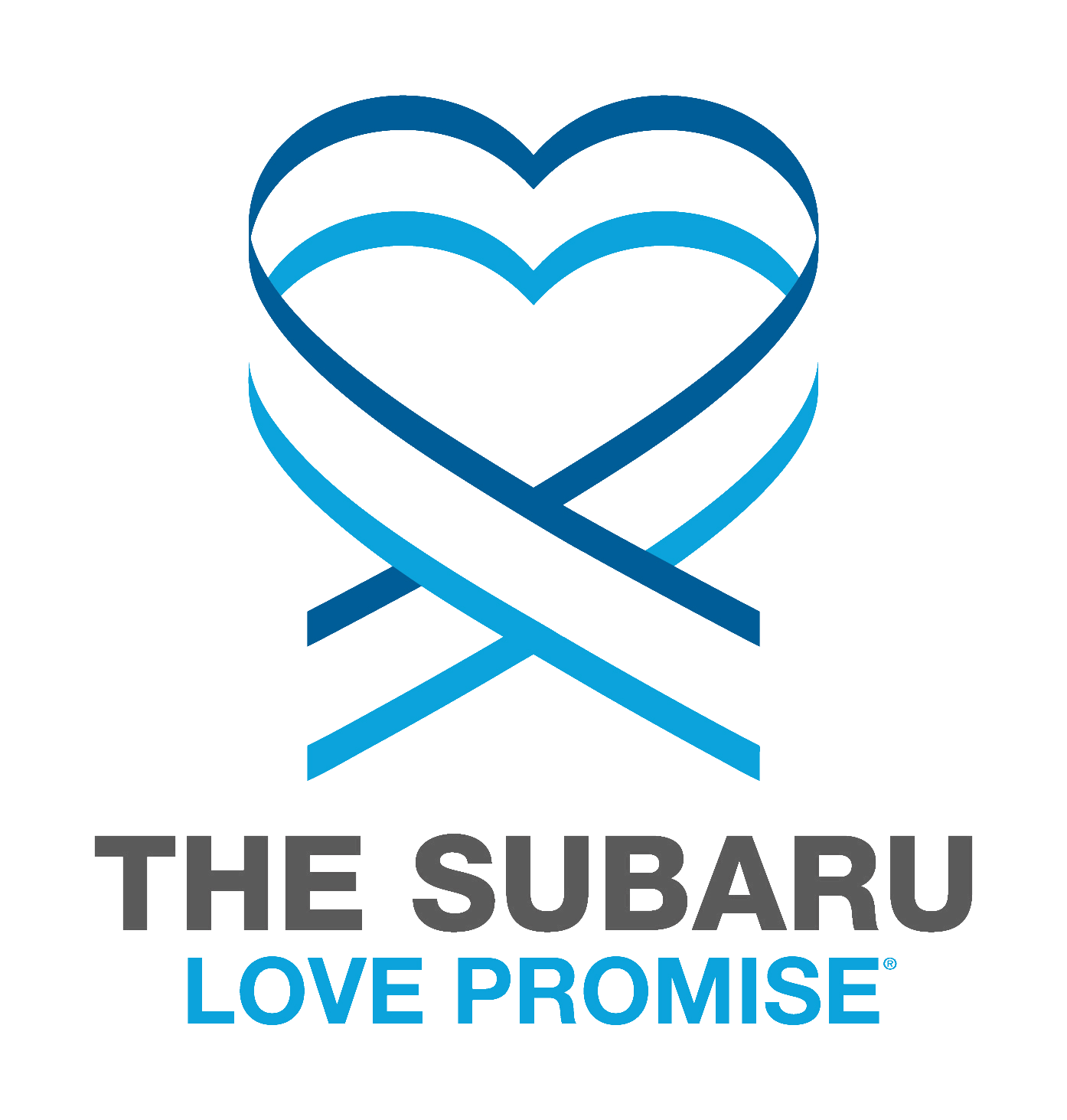 What is the Subaru Love Promise?
Subaru and our retailers believe in making the world a better place and the Subaru Love Promise is our vision of respecting all people. This is our commitment to show love and respect to our customers and to work to make a positive impact in the world.
How is Lancaster County Motors Subaru dedicated locally to the Love Promise?
Our Love Promise can be seen in various partnerships with local charities and non-profits. We're grateful for the opportunity, not only to be a part of our community, but to serve it as well.
ASPCA, Pet Pantry of Lancaster County
Lancaster Catholic High School
Love Promise Stories from Lancaster County Motors Subaru
Subaru and Lancaster County Motors Subaru believe in making a positive impact on the communities in which we live and work. We uphold that belief through our Love Promise Community Commitment. Every month, we select inspiring stories from customers and partners from around our area who strive to support our collective commitment and feature them here
Changing the way the world sees down syndrome - Katy C
For the second year in a row, GiGi's Playhouse Lancaster is honored that Subaru participated in our Annual Gala as a gold-level sponsor. GiGi's Playhouse Lancaster is a brick and mortar Down Syndrome Achievement Center that provides free educational, therapeutic and social programs to individuals with down syndrome and their families. Every month, over 400 hours of FREE purposeful programming is provided to children and adults at the Playhouse, run 100% by volunteers. Over 300 families from Lancaster and the surrounding community currently benefit from GiGi's services. We greatly appreciate Subaru's support in changing the way the world sees down syndrome!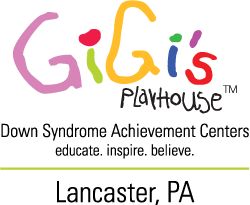 ---
Fighting food insecurity in Lancaster Pa. - Eric S
My name is Eric Shellhamer and I work at Lancaster County Motors Subaru and attend the Annunciation Greek Orthodox Church in Lancaster where I was introduced to the opportunity to partake in this type of volunteer work. I receive a list of addresses as well as boxes assembled by the church. Lancaster County Motors was kind enough to let me use a Subaru from the dealership. At that point, all that's left is to deliver – which I do every-other Thursday evening. While it's extremely fulfilling to know that the recipients will go to sleep with full bellies, 34 million other people may not, as this is the number of people in the United States who are considered food-insecure – 9 million of which are children. Food, I believe, brings us together. Knowing this and witnessing the relief this volunteer work brings has turned this into a cemented commitment in my life and in my heart, and I thank Subaru for the opportunity to talk about it.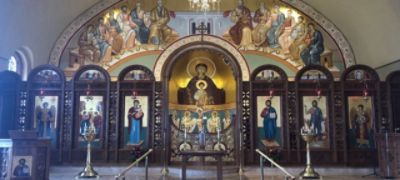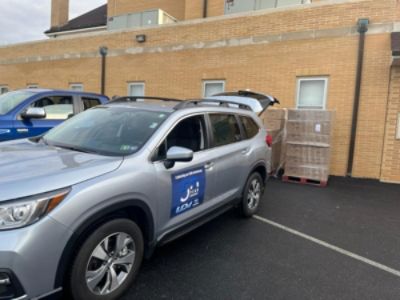 ---
Fall in Love at Pet Pantry of Lancaster 2022 - Andy K
For the third year we are honored that LCM Subaru has chosen to support us with the ASPCA Subaru Loves Pets campaign. What makes this year special is that we were able to find new loving homes for cuddly cats, kittens, and two dogs! Buddy is our "under cat" who sadly needed both eyes surgically removed. We have received an update from his awesome new family that he is adjusting well and is very happy. 2022 has been an exciting year with the introduction of our new dog foster-to-adoption program. We will be even busier in 2023 with the expansion into our new facility that will house dogs waiting for their new loving homes and families. Many, Many thanks to LCM for their continued support!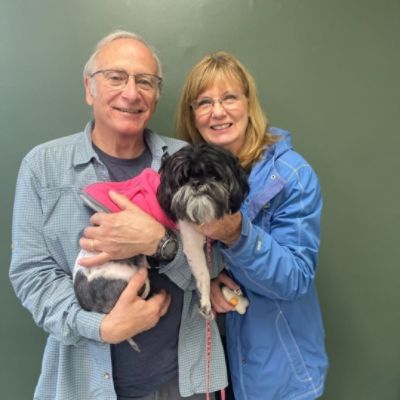 ---
Subaru - Leukemia & Lymphoma Society Blanket Drop Ann Barshinger Cancer Center - Krissy H
On July 13, 2022 I had the honor of meeting Eric Shellhamer from Lancaster County Motors Subaru for his sixth blanket drop! Eric was so proud to be part of Subaru and their generosity back to the community. Eric brought 80 blankets and 30 creative kits that brought smiles and joy to every teammate we met at the Ann Barshinger Cancer Institute with Penn Medicine, Lancaster General Health. Rebecca McCarron from the Cancer Institute was so inclusive with her invited her colleagues who work directly with blood cancer patients in many capacities. We shared time with the nurse navigator, infusion room nurses, social worker and a few from the special events team. Each one shared their appreciation and love for the soft blankets to keep patients warm, the metal box full of markers, crayons and more to help with patient's creativity. The Lancaster County community is so generous, and Lancaster County Motors Subaru leads the way in Corporate leadership. Thank you, Eric for consistently being the one to deliver the Subaru full of warmth and sunshine to those fighting blood cancer right here in Lancaster. The Leukemia & Lymphoma Society is proud to stand with you in partnership. Thank you for all you do!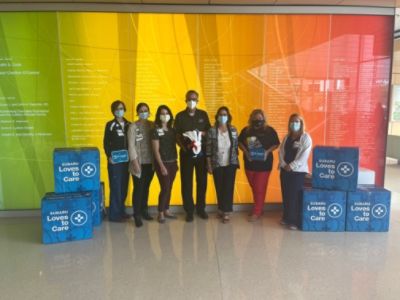 ---
Yes, We Can Help! - Lynn W
I received a phone call today. A woman, married, with 2 children sharing tearfully her journey of trying to come to grips with her situation. Her husband was fighting the horrible effects of Amyotrophic Lateral Sclerosis better known as ALS, a slow, unrelenting illness that will take his life within the next few years. Her words, staggered through tearful sobs were, "I just don't know how to keep going" and then as if she realized she had almost admitted defeat, she said, defiantly "we're not quitting, we're not giving up, but I need.… no, we all need a break". A friend told me about A Week Away. Is this something you do? Can you help us"? The answer is yes!! Because of Subaru and the Share The Love Campaign, we at the A Week Away Foundation have the funds to send this exhausted family on a much-needed, week-long Respite. Theirs will be a very complicated, expensive trip, custom-designed to meet their every need. The true value of a stress-free time away for this family, cannot be calculated in dollars… Its value will be priceless!! Respites provided through the A Week Away Foundation are necessary but costly. That is why we are so grateful to Lancaster County Motors Subaru. They have embraced our mission to bring rest and hope to families who are battling life-threatening illnesses and have sponsored 16 Family Respites. We simply could not do what we do without their help and commitment to AWA and to our community. The hope that is given to us through the amazing donation we received as a Home Town Charity this year, we are able to pass on and "Share the Love" with those that need it most. Thank you Lancaster County Motors Subaru!!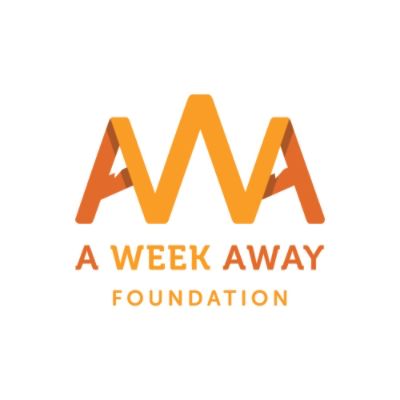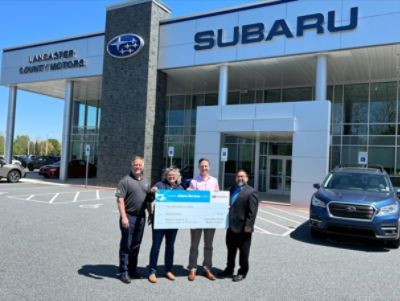 ---
Meal on Wheels Grand Opening - Jonathan F
On May 18th, Meals on Wheels of Lancaster had their grand opening of their all-new facility in Lancaster PA. Meals on Wheels of Lancaster and Lancaster County Motors Subaru have been partners in the past during Subaru's Share the Love Program, and was honored to attend the event. In 2021, Lancaster County Motors and Subaru of America donated $16,000 to Meals on Wheels of Lancaster. Meals on Wheels of Lancaster's new 5,600 sq/ft facility features 2 kitchens, more than double the size of their previous location at 2,250 sq/ft. The facility features new state of the art appliances, a kitchen that was designed with fast and efficient meal prep in mind, and room for expansion if necessary in the future. Meals on Wheels of Lancaster is currently providing over 200,000 meals to around 1,000 clients in Lancaster County per year. This is handled by a staff of only 9 and over 700 volunteers.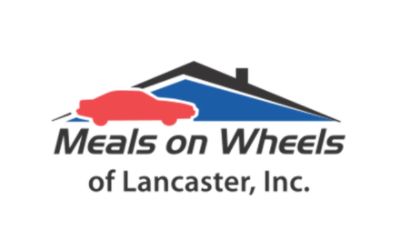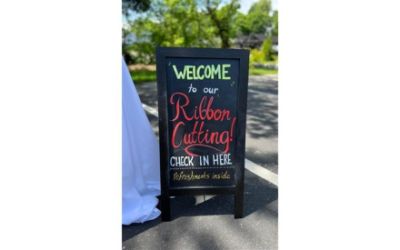 ---
LCM Subaru's LOVE PROMISE to Imerman Angels & Me - Ryan F
In 2021 LCM Subaru pledged their support for me to join Team Imerman Angels and run the 50th TCS NEW YORK CITY MARATHON ON 11.07.21. With LCM Subaru's donation, determination and a lot of training, Team Imerman Angels and myself were able to positively impact the lives of many cancer fighters, survivors, previvors and caregivers. Thank you so very much from the bottom of my heart for all of the lives that your generosity helped! WE RUN... SO NO ONE FACES CANCER ALONE Imerman Angels is a 501(c)(3) nonprofit organization whose mission is to provide comfort and understanding for all cancer fighters, survivors, previvors and caregivers through a personalized one-on-one connection with someone who has been there. Imerman Angels envisions a world where cancer is not a solitary experience. Through its unique matching process, Imerman Angels partners individuals seeking cancer support with a "Mentor Angel" who provides psychosocial support and support to anyone facing cancer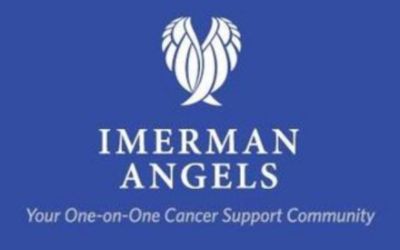 ---
LCM Subaru Fall Festival at Aberdeen - Bill W
Lancaster County Motors Subaru was a tremendous benefit to the Rotary Club of Lancaster Sunrise. The Rotary Club is a service organization which has easily branded the slogan "Service above Self". We serve our community from the generosity provided by LCM Subaru and others. In the last 5 years our Rotary Club provided $50K in student scholarships to Lancaster Catholic and Manheim Twp. school district students, $25,000 in grants to Lancaster County non profits $5,000 each to 5 organizations, most recently the Lancaster Early Education Center was the recipient for new playground equipment and toys, as well as new benches built by our Rotary Club. We provided over $109,000 in community fund grants to 22 different non profits who have demonstrated need combined with sustainability. The Rotary Club of Lancaster Sunrise is able to do all the things we do to help make Lancaster County non profits thrive because of LCM Subaru's generosity. We consistently live by the Rotary's 5 avenues of service which are Youth, Club Service, Vocational Service, Community Service, and International Service. LCM Subaru, thank you for you love and promise and keep doing what you do! It is well respected by many and appreciated by our Rotary Club to allow us to keep our vision of service above self paramount to the community where we all live and work. Thank you!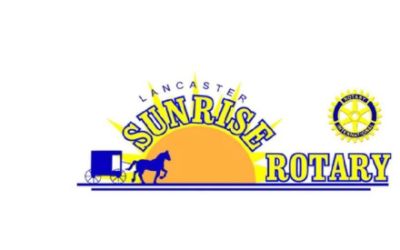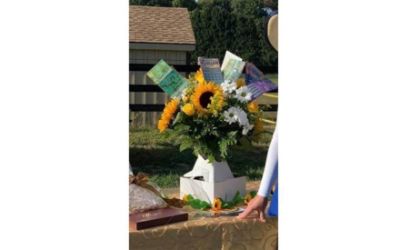 ---
Community volunteers United Way 'Day of Caring' - Kyle G
For 30 years, United Way of Lancaster County has brought thousands of volunteers together to participate in Day of Caring. This annual, two-day opportunity gives individuals, families, and teams of volunteers from local companies and organizations a chance to be a part of a county-wide effort to give back by rolling up their sleeves and completing special projects for a non-profit organization. This fall, over 400 volunteers participated, we followed employees at UGI Utilities and students at Millersville University as they helped with projects throughout Lancaster County. United Way of Lancaster County is privileged to be able to help organize these volunteer opportunities throughout the area. With the support of Lancaster County Motor Subaru and selecting United Way of Lancaster County as a Hometown Hero we are thrilled to be able to connect with the community.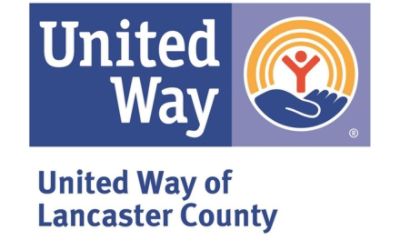 ---
Celebrating Subaru with LancasterHistory - Annie W
Subaru Loves Learning and shares that love each year with LancasterHistory, Lancaster County's home for history. As a key supporter of the museum's annual Valentine event, Subaru helps LancasterHistory bring public education to learners of all ages. Thanks to Subaru's support, visitors have access to a Museum and Research Center containing 2 million artifacts and archival items, and the home of President James Buchanan (Wheatland), while a museum dedicated to Congressman Thaddeus Stevens in the works. Subaru's love fosters continuous learning. Robin Sarratt, Vice President of LancasterHistory, fondly remembers an instance when a guest at the annual holiday event was on the way home from the museum when she was in a serious car accident. The car she was driving—not a Subaru—was totaled, and she sustained minor injuries. Not knowing who to call in the moment, she phoned the main desk at the museum, where word reached our President & CEO about her predicament. He left the party and picked her up in his Subaru Outback, and made sure she was delivered safely home. Impressed by her ride, she went right out and bought a Subaru the very next day! To this day, she, too, supports LancasterHistory's educational programs, loves driving her Subaru, and always remembers the love she received in a moment of need.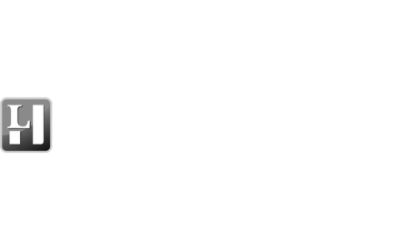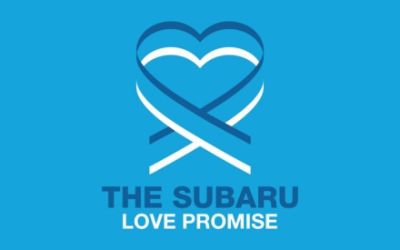 ---