The 2021 Subaru Love Promise Customer and Community Commitment Award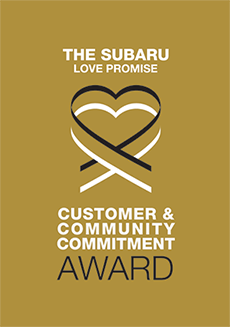 We've been nationally recognized for our dedication to our customers, our community, and the Subaru Love Promise.
We're honored to receive the 2021 Subaru Love Promise Customer and Community Commitment Award. This award nationally recognizes elite Subaru retailers who provide an exceptional customer experience at every interaction with Subaru. These retailers have also demonstrated an outstanding commitment to supporting passions and causes in their local communities in important areas such as the environment, community, health, education, and pets.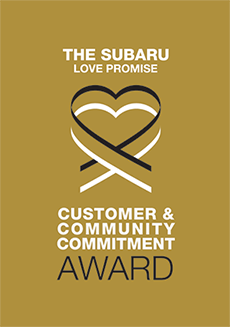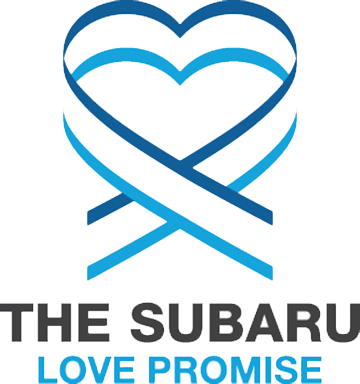 What is the Subaru Love Promise?
Subaru and our retailers believe in making the world a better place and the Subaru Love Promise is our vision of respecting all people. This is our commitment to show love and respect to our customers and to work to make a positive impact in the world.
How is Lancaster County Motors Subaru dedicated locally to the Love Promise?
Our Love Promise can be seen in various partnerships with local charities and non-profits. We're grateful for the opportunity, not only to be a part of our community, but to serve it as well.
ASPCA, Pet Pantry of Lancaster County
Lancaster Catholic High School
Love Promise Stories from Lancaster County Motors Subaru
Subaru and Lancaster County Motors Subaru believe in making a positive impact on the communities in which we live and work. We uphold that belief through our Love Promise Community Commitment. Every month, we select inspiring stories from customers and partners from around our area who strive to support our collective commitment and feature them here
A Pandemic Can't Stop The Love - Jennifer K
The Central Pennsylvania Food Bank has seen an outpouring of support from the community that has been incredible. Thousands of generous individuals and companies have helped to Give Hope Now, but our work is far from over. The Food Bank has seen demand for food assistance increase more than 40% in the past year and expects demand to remain at these high levels for the next two years. With a "strong front" to combat hunger, the Food Bank and its more than 1,000 partner agencies and programs provided over 50 million meals this past year. But community support is what gets the job done - volunteering, donating and raising awareness all contribute to addressing food insecurity across Pennsylvania. Thank you Lancaster County Motors Subaru for your generous donation of 220,394 meals to the Central Pennsylvania Food Bank. Together, we can end hunger. https://www.centralpafoodbank.org/
---
A Pandemic Can't Stop The Love. - Jennifer K
2020 has been a year none of us would have ever imagined. The demand on the charitable food network increased by over 40 percent. In partnership with our member agencies throughout our 27 county service area including Lancaster County, we are feeding more than 200,000 families, children, seniors and veterans per month. Thousands, like Cassandra, her sister Gigi and their children, are visiting food pantries for the very first time. "The coronavirus has made us a family that needs help." With hours cut due to business closures from the pandemic, they didn't know where to turn for help so they could continue providing the basic needs to their families such as food and shelter. "It has really helped when there's no money coming in, and we don't have money and we need this or we need that it seems like a miracle happens you guys give it to us. It is amazing to know that there will be food for my kids no matter what," Gigi said with tears in her eyes. Thanks to Lancaster County Motors Subaru's generous contribution of almost $14,000 to our COVID 19-crisis response efforts, we were able to add a glimmer of hope to our neighbors in need. This equals close to 84,000 meals for families to once more gather and share food and love with one another around a dinner table.
---
Getting kids on bikes - Erik M - erik m
For the last two years the Elizabethtown Mountain Bike club has been fortunate enough to be sponsored by our local Subaru dealer, Lancaster County Motors Subaru. Our club strives to get more middle school and high school students on bikes and enjoying the wonderful outdoors. This is accomplished in a multitude of ways. Two or three times a week we practice our skills out on our local trails. Additionally, we compete in races, across the state, against other Pennsylvania mountain bike teams. Over the last two years Lancaster County Motors Subaru's gracious donations helped us achieve several goals for our team. The club used the donated money to pay for every students first race, and the rest went towards our team jerseys. This was a big deal especially for some of the newer riders, who were worried about competing in their first race and buying a team jersey. Instead, every member of our team got to experience the thrill of a mountain bike race while rocking a team jersey, without having to worry about how they would cover the costs. This is my 5th and final year with the club as I've ridden with the team since it's creation and this club means a lot to me. I went from barely knowing how to ride my bike to being a formidable opponent in the races. Not only did the club teach me how to correctly ride my bike, it also helped me stay in shape, make lots of new friends, and It helped me get my first job. I know there are many others on our team that have very similar experiences as me, and we are all amazed to see how far this club has come. Thank you so much Lancaster County Motors Subaru for donating and helping our team continually grow to reach more students and become the amazing club it is today! Erik Motter - EtownMTB Senior
---
Fall in Love at The Pet Pantry of Lancaster - Kate K
I am a lifelong animal lover and pet mom, my family has been volunteering for a number of years at the Pet Pantry of Lancaster. We love working directly with the animals whether they are in rescue or fostering kittens or puppies in our home. For over a year now I have taken on a more active role working part time planning community events. I enjoy having the opportunity to go out in public and educate on the various programs Pet Pantry offers such as our food handout, spay and neuter programs and of course our rescue/adoption program. This year has certainly been challenging, what most people may not be aware of is that during Covid-19 we were not able to offer spay and neuter surgeries as these were not deemed lifesaving procedures. This created a perfect storm for an even more demanding "kitten season" than usual. Our phones never stopped ringing with callers asking for help with kittens they were finding, often in need of medical attention. The Subaru Loves Pets grant and our partnership with Lancaster County Motors has been a lifeline to so many homeless kittens and cats. During the month of October Pet Pantry was able to discount our adoption fees by $25. This helped find 63 new homes for some very grateful fur babies! This was not the first time Lancaster County Motors has supported us, in the past they have had very successful food and supply drives as well as a pet costume parade. Rescues rely heavily on local support from individuals as well as businesses. There has been so many beautiful adoption pictures and stories from this campaign. One adoption in particular tugged at my heart and that is the story of Stitch. Stitch came into our rescue with a severely injured right leg, left ear and tail. Our rescue veterinarian felt that these injuries were consistent to when kittens or cats are found in car engines. Unfortunately, Stitch's leg and tail could not be repaired and needed to be amputated, his left ear would remain deformed. He spent many weeks with our veterinarian in her home recovering before being healthy enough to be put up for adoption. I have included the story of how Stitch came to be adopted by a lovely couple who have given Stitch a loving and happy new home. "We decided on our 5th wedding anniversary that we wanted to go visit cats in the local animal shelters. After going to several shelters and being told we couldn't visit due to COVID19, we did some research and stumbled across The Pet Pantry. We weren't necessarily planning on adopting another cat (we had three others!) but we read about Stitch online and knew we had to meet him. We called the Pet Pantry and we're allowed to come in! When we got there, we were taken to the cat room, but didn't see Stitch. We asked about him, and we fell in love instantly! Not only is he cute as a button, but he is so sweet, loving, and spunky! Stitch has 3 legs, but he certainly doesn't act like it! He runs all over the house, up and down the stairs with ease, and leaps up and down off the bed and couch. He loves sitting on the back of the couch and looking out the window. We call him our "Security Stitch". Stitch also likes to chase around his big (cat) sisters, Baila (16 years old), Jessie Cow (13 years old), and Missy (5 years old). He loves playing with toys and we often find his toy basket spilled over and toys all over the house. He enjoys chasing our feet under the blankets! Stitch warms our hearts more than we could ever explain. He is our "little man", our "security Stitch", and "Little Butt, King of the little butts". He completes our family and brings us so much joy. We are forever grateful for The Pet Pantry for taking him in, performing his surgeries, and allowing us to adopt our baby boy." Many, Many thanks to the team at Lancaster County Motors Subaru for choosing to support The Pet Pantry of Lancaster with the "fall in love" campaign.
---
Making Clubs Count - Anne B
Lancaster Catholic High School's Recycling Club had a great kick-off by reading "Trash Revolution Breaking the Waste Cycle." Students are now collecting recycling twice a month. The two collects are paper and plastic. The Environmental Club was inspired by reading "Dig In! 12 Easy Gardening Projects using Kitchen Scraps." Students are looking forward to growing plants from sprouts, roots and tops. Current plants growing are pineapples, sweet potatoes, celery and avocados. We received both of these books through the Subaru Loves Learning! Thank you Lancaster County Motors Subaru!
---
Sharing a love of Lancaster's history - Robin S
At LancasterHistory, education is at the heart of our mission. We serve the community, not only by preserving Lancaster's historic treasures, but by making sure that everyone—especially Lancaster's schoolchildren—have the opportunity to learn from the past. As a sponsor of our annual Valentine's Gala, Lancaster County Motors Subaru has shown the love for this community's history, and for our work to make sure that every child in Lancaster County has the opportunity to have an authentic, hands-on experience as they learn about the people, places, and events that make their hometown unique. They've also ensured that we have the tools to teach kids what it means to be a strong citizen--we engage them in age-appropriate civics lessons about American democracy. There is nothing better in our daily work than hearing a child say, "oh cool!" when they come face to face with an artifact from the American Revolution, a two hundred-year-old document, or a toy that someone played with generations before they were born. Thanks to Lancaster County Motors Subaru, kids across Lancaster County are having "oh cool" moments at our museum every day. We're so grateful to Lancaster County Motors Subaru for sharing the love with LancasterHistory and with so many important causes in our community!
---
Why We Deliver Blankets in the Summer - Valerie S
It was at least 90 degrees on June 27th. Marsha and I drove just about an hour from our chapter office to Ann B. Barshinger Cancer Institute. She was blasting the air condition in her car but it was still hot. Uncomfortable hot. When we arrived at the cancer center, the parking lot was jammed full with cars. It was hard to decipher how to get from one lot to the other without getting back on the road. We found a spot, parked and retrieved the hand carts out of the trunk and then slowly moved across the macadam inferno, trying not to sweat even more than we already were, as if that were even possible. When we reached the entrance, Eric Shellhamer from Lancaster County Motors Subaru, popped out of the door bringing with him a cool breeze. We greeted each other and entered the building. Once inside the building we had the opportunity to chat a little bit more. Eric told about his love for biking and talked about how awesome it would be to hold a fundraising bike event. I had the opportunity to tell him a little bit about Team-In-Training. He told us he is a cancer survivor. He also shared that a friend of had been diagnosed recently too. While we didn't get to deliver blankets to patients, it was very obvious that Eric choose to take part in this delivery because cancer has touched his life and those around him and he wanted to help spread hope and love to others facing it too. Annie, our contact with Ann B. Barshinger Cancer Institute, joined us and Eric showed her the blankets, arts and craft kits and cards of hope. She was very grateful on behalf of the patients who would be receiving them. One thing that seems to be key with the deliveries are the cards of hope. Subaru customers so kindly take a minute of their time to write an uplifting message to let patients know they are not alone. They don't know who will receive the message and might not realize it when they are writing them, but that note could make all the world of difference in someone's day. I found meaning in this experience that changed my perspective. Next time you find yourself complaining about a summer heat wave try to remember that there is a Dad somewhere trying to explain Lymphoma to his 10 year old child, a teenager who is devastated and wondering what they did to deserve a disease that they did not ask for and a mother sitting in a hospital room having just undergone chemotherapy, wrapped up in a Subaru/LLS blanket freezing and wishing that she could enjoy the summer.
---
Empowering CASA to Help Children - Melissa L
Thank you to Lancaster County Motors Subaru for supporting CASA of Lancaster for the 3rd time during the 2018 Subaru Share the Love Event! CASA of Lancaster received over $27,000 which will go directly back into the Lancaster County community by helping the children in foster care. Children like Katie, an 18-year-old former foster child, who is now flourishing thanks to the CASA program. Katie was a victim of physical, emotional, and sexual abuse… and no one believed her. Katie was in foster care for over two years and was finally able to leave the system thanks in part to her CASA Volunteer. Thank you LCM Subaru for empowering CASA to help more children like Katie!
---
Lancaster County Motors Subaru Shares the Love - Victoria B
The Leukemia & Lymphoma Society's (LLS) Central PA Chapter was proud to partner with Lancaster County Motors Subaru during Subaru Loves to Care month to provide support to patients fighting cancer. Lancaster County Motors Subaru staff delivered the beautiful blankets to the Ann B. Barshinger Cancer Institute at Lancaster General Health. Thank you, Lancaster County Motors Subaru, for bringing warmth, love and hope to patients in our communities through Subaru Loves to Care!
---
Lancaster Co Motors Subaru Shares the Love - Tara R
The Leukemia & Lymphoma Society's (LLS) Central PA Chapter was proud to partner with Lancaster County Motors Subaru during Subaru Loves to Care month to provide support to patients fighting cancer. Lancaster County Motors Subaru staff delivered the beautiful blankets to the Ann B. Barshinger Cancer Institute at LGH. Thank you to Lancaster County Motors Subaru for showing their local cancer patients that they are here to provide warmth and support!
---